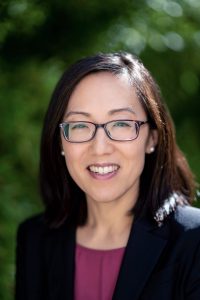 Biography
Dr. Kim's (she/her) research program in transportation systems analysis focuses on the operations of multimodal networks, and applications to support resource allocation strategies across long-distance, large-scale systems. She aims to better inform the planning of transportation systems that are more adaptable and resilient to a changing world, collaborating with researchers across disciplines in contexts such as wildfire emergency management, transportation infrastructure decisions under climate change impacts, and integrated analysis of air and ground transportation systems. Dr. Kim received her MS and PhD in Civil & Environmental Engineering from the University of California, Berkeley, and her BASc in Civil Engineering from the University of Waterloo. Prior to joining UBC in March 2021, she was a faculty member at the University of Alberta. Between her MS and PhD studies, she worked in the engineering consulting practice in California and British Columbia.
Research Interests
Transportation systems analysis, multimodal networks, transportation infrastructure planning, adaptation, long-distance transportation, air transportation, resource allocation and optimization, multicriteria analysis and decision-making, supply-and-demand models
Courses
CIVL 340 Transportation Engineering I
CIVL 440 Transportation Engineering II
Student Research Opportunities
Thank you for your interest in joining our group. I welcome motivated applicants that are enthusiastic about transportation engineering and planning, from a variety of backgrounds, cultures, and perspectives. I aim to provide the highest quality graduate training within an inclusive, equitable, and supportive environment.
I am currently looking for MASc and PhD students for Fall 2024 entry. Successful applicants will 1) have a strong academic background in transportation engineering and/or relevant disciplines, 2) have excellent demonstrated communications skills, 3) be independent thinkers and problem solvers, 4) be responsible individuals who take pride in and ownership of their work, and 5) meet or exceed the minimum requirements for admission as set forth by the UBC Graduate School, including well exceeding minimum TOEFL or IELTS scores if an international applicant.
If you are interested in joining our group, please send me an email with subject line "Graduate Applicant 2024." Your email should contain the following:
A statement (200 words or less):

Whether you are applying for the MASc or PhD program,
Introducing yourself and your relevant qualifications,
Explaining your research interests and why you would like to join my team, and
Whether you have, or are eligible for, external funding (i.e., NSERC).

A complete CV, including two references and TOEFL/IELTS scores. Be sure to indicate your relevant skills, including coding experience and proficiency.
A description of what you observe in this plot, with instructions.
After reviewing preliminary applications, candidates will be contacted (sometime in late fall or early winter) and encouraged to formally apply by the institutional deadline of Jan 31, 2024.
Publications
For a full list of publications, visit: